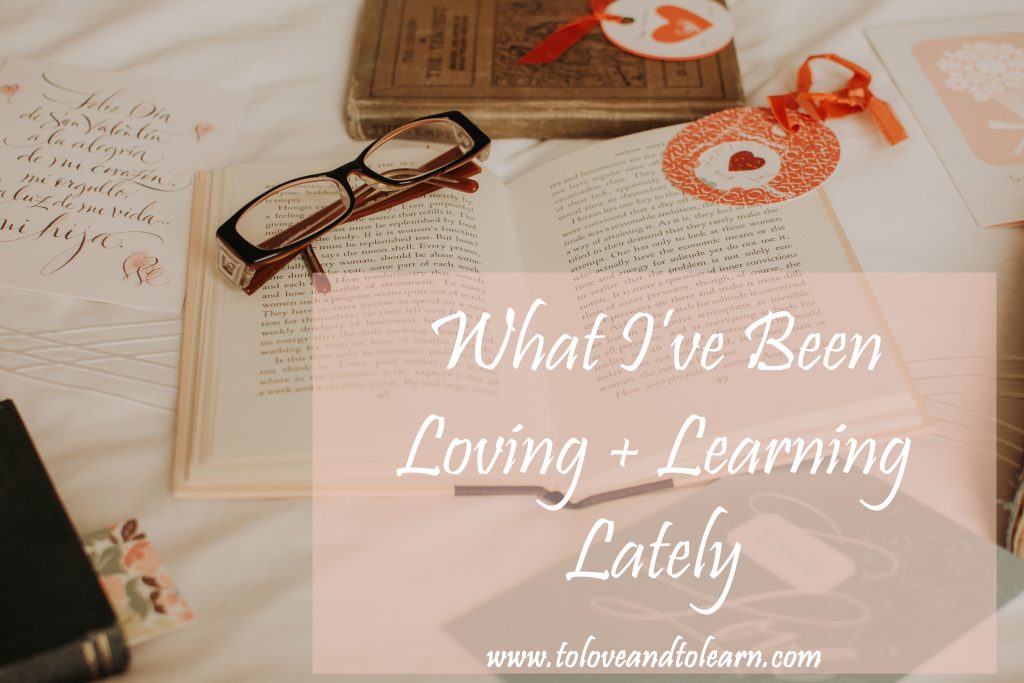 Welcome to Round 37 of this little series I started of all the things in life I'm loving and learning lately! Here you'll find everything from the books I'm currently reading to the products I'm loving to the shows I'm watching (which, spoiler alert–won't be very many or very exciting, since I'm not a huge t.v. or movie watcher). If you want to check out past editions of the series, click here.
Note: There are affiliate links in this post, which means I may get a small percentage of any sale made at no extra cost to you.
Loving Lately
I've talked before about my love for the Squatty Potty, but I was made newly aware of just how much we have come to depend on it when we had to move the one from our bathroom into the kids' bathroom so that my 3-year-old (who is very newly potty trained) could more easily get up on the toilet to go. After about two days of suffering without one in ours, we made it a priority to order another one stat so that both bathrooms were equipped. Seriously, once you try using one of these babies, you will NEVER want to go back. (And if you're ever in the mood for a laugh, the Amazon reviews for this are pretty hilarious!)
We're in full-on (last-minute!) back-to-school shopping over here, and among the favorites that my kids are most excited about are this backpack for my preschooler (let's be honest—I REALLY wanted him to go for this one instead because I think it's about the most adorable thing ever, but he wanted "the racecar"), and this pink unicorn lunchbox for my 1st grader. We also took advantage of a bunch of rewards points I had through Old Navy (which saved us a cool $43 on clothes), and then I bought them a few packs of underwear and socks today while we were at Walmart (which is the only "big" store in our county). My oldest starts on Thursday, and although we're now "ready," I still can't believe we're already starting up school again!
We originally had subscribed to Disney+ while we were getting our old house ready to put on the market and then getting ready to move (with plans to cancel soon after), but now it's basically become a staple around here. Our annual membership renewal is coming up, and I figured I'd pass along two different ways you can save on it if you're in the same boat. The first way is if you go through Rakuten (a cash-back browser extension that I've used for years and ALWAYS use when I'm online shopping), you can get $12.50 cash back if you buy an annual membership. (And, if you're new to Rakuten and go through my referral link, you'll get an additional $30 cash back on top of that, essentially taking down the cost of an annual membership to Disney+ by over half.) The second way to get a deal right now is if you sign up for Amazon Music Unlimited, Amazon will give you 6 months of Disney+ totally free. Click HERE to learn more if you're interested in that way!
Learning Lately
Current and Recent Reads
I didn't end up doing this LALL roundup last month at all because I hadn't managed to finish a single book from mid-June to mid-July. Now that we are fully into the harvest season for the flower farm, I just don't have a ton of time to spare! However, between a weekend getaway to Capitol Reef and a few solid snatches of reading sessions here and there, I actually have a decent number of books to share over this two-month period. Sure, it's nothing compared to what I used to be finishing/reading at a time, but that's okay! Different seasons of life require different reading habits 🙂
I've had a hard time ever since the pandemic hit reading "heavier" books, so pretty much all the titles I've been reading lately are "fluffy," comfort reads with happy endings, or books that will help my life seem a little easier. This book fits into that latter category. I've followed Kendra's blog for years, and I was excited to see that she finally had a book coming out. In a nutshell, this is a book that teaches you how to be a genius about the things that matter to you and lazy about the things that don't (but still get them done, if need be). I've already found myself applying certain principles from this subconsciously as I go about my regular housekeeping and daily scheduling, and some concepts have been especially helpful (like her "magic question) in helping me to make progress when progress feels hard to come by. All in all, a solid read.
I (somewhat surprisingly) really enjoyed Henry's hit last year — Beach Read — even though romance is a genre I often roll my eyes at (and will staunchly avoid in certain instances), so I figured I'd give her latest a shot, and I even added it to my 2021 Summer Reading List. Although some people are saying that they enjoyed this one more, that wasn't the case for me — I found this one slow to get into and the story and characters to be just "meh." This follows a pair of college friends who have been taking a summer vacation together ever since they met, but when a big misunderstanding happens between them, Poppy fears that she might have lost her best friend Alex forever. When the opportunity for one last shebang comes up, Poppy decides to go for it, even though it will mean addressing the awkwardness that has come up between them. This is your typical friends-to-lovers trope, but the dialogue is witty, so there's that. Just three stars for me. (And heads up for a few open door scenes.)
I must have been on a week-long romance kick, because I picked this one up right after Henry's. I'd read The Switch by O'Leary last year and thought it was just okay, but since I know so many people are huge fans of hers, I decided to give her another go (especially as it seems that this one is the favorite). And…it was also just okay for me. Fun concept (a night shift hospice nurse rents out his flat during the hours he's not at home to a down-on-her-luck creative editor and the two of them start leaving notes back and forth for months before they actually ever meet in person), but in the end, I wasn't that impressed. I'm not super comfortable with books that have several open door love scenes (which this one does), and I also thought the exact thing I did with O'Leary's other book—that her writing style just seems kinda clunky. I did appreciate that both People We Meet and this one both tried to have some "depth" (and not just pure fluff), but in the end, neither author is now a must-read for me.
I wrote on my Goodreads account that this novel felt like an "instant classic" to me, largely because it reminded me strongly of many of my favorites from childhood. Sure, the plot is nothing fantastically new, but boy, did this deliver on comfort and a warm, happy ending! Basically, three orphaned siblings are left guardianless during WWII, and in a somewhat hare-brained scheme by the estate's solicitor, they are shipped off to the British countryside to stay with willing volunteer families there along with the other children evacuees who are fleeing the dangers of London (something that really happened!), with the hopes that they might find a volunteer family willing to adopt them permanently. If you want a book strongly reminiscent of favorites from your childhood — think The Boxcar Children or A Little Princess — this is a great one to pick up. A solid 5-star read for sure. (This was another one on my Summer 2021 Reading List, which you can check out HERE.)
This is the current book on my nighstand, and I've been leisurely going through it just a page or two at a time for the past month or so. I know reading personal-journal-style essays/memoirs isn't for everyone, but it's always been a genre I've enjoyed. I particularly was interested in reading this one at this time because it follows Sarton as she finds an old dilapidated farmhouse in the country and then remakes it to be her own (which is a bit like what we've been doing with our house since we moved here last year, although our house had been updated much more recently in general than hers had been). I love books that talk poetically about home and homemaking and being at peace with where you are, and this one is just that. I'm not super far into this, but I am definitely enjoying it thus far, and it's ticking that "comfort read" box for sure.
What have you been reading and/or loving lately? Anything worth passing along?