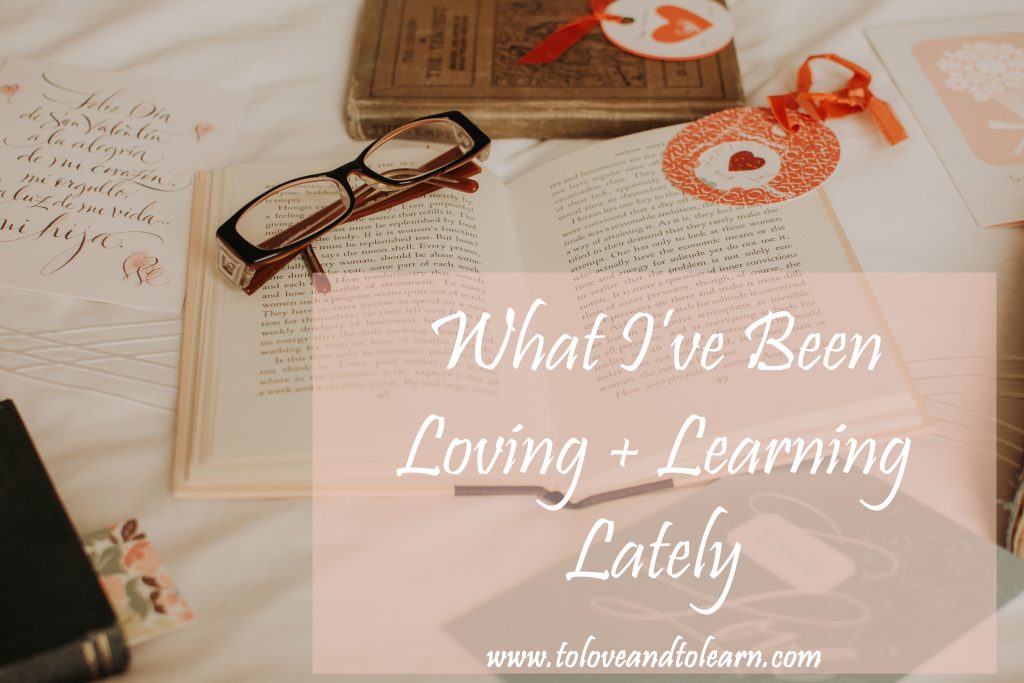 Welcome to Round 20 of this little series I started of all the things in life I'm loving and learning lately! Here you'll find everything from the books I'm currently reading to the products I'm loving to the shows I'm watching (which, spoiler alert–won't be very many or very exciting, since I'm not a huge t.v. or movie watcher). If you want to check out past editions of the series, click here.
Note: There are affiliate links in this post, which means I may get a small percentage of any sale made at no extra cost to you.
Linking up with Steph and Jana today!
Loving Lately
One of my November monthly goals is to basically do all my Christmas shopping by the end of this month so I have one less thing to worry about with the new baby coming. I'll probably be doing 80% of my shopping online this year, and since I've tentatively picked out several possibilities of gifts for the kids, I can price watch over the next couple weeks to see what kind of deals I can get. A few things I've got my eye on:

For Raven (my 4-year-old): This ride-on track that's over 9 feet long with accompanying unicorn car, this Melissa and Doug fold-up barn (that reminds me a lot of the one I grew up with, which she loves playing with at Grandma's), and the next two audiobooks in the Little House series (which she has LOVED listening to in the car). For most Christmases now (if not all), I've also given Raven something from my own childhood as part of her gift, so this year, she inherits the troll dolls, ha ha. She's going to love them!
For Mathias (my 17-month-old): This Wheels on the Bus slide/pretend car combo (it's a tad pricey, but I'm willing to look around to see if I can get a major price drop on it), this pound and tap bench with pull-out xylophone, and this Playskool Poppin' Pals pop-up toy.

To read more about our gift philosophy for babies/young kids, check out this post. (I would add to that post that we've also since started picking out toys that don't have a ton of pieces to them when possible, lol.)
Also, I'll be picking out a few new clothes for each of the kids for next to nothing thanks to my favorite clothes-buying hack.
We don't watch too many t.v. shows, but we've recently gotten into HGTV's newest show Rock the Block, which is where they have 4 of their top designers from various hit shows face off against each other and transform 4 identical suburban houses to see who can increase the value the most. It's been pretty incredible to see how different the houses all come to look—the ingenuity and creativity of people will never cease to amaze me. (Also, we're excited for the new season of Love It or List It to air next week, which we've been watching the backlog of for months now.)
Learning Lately
Current and Recent Reads
This is the long-hoped-for sequel to the classic dystopia The Handmaid's Tale (which I believe is the only book of that genre I've ever given 5 stars to), which is set in a futuristic country named Gilead where women are classified into different roles (such as Handmaid, Wife, Martha, etc.), each of which is meant to protect the women and their virtues, but which is also restrictive and subversive. In The Handmaid's Tale, the ending is abrupt and basically doesn't tie up any loose ends, which was the main reason my husband ended up disliking it when he read it. However, this book comes in and ties up those loose ends by telling the stories of three women, who each have very different roles in this new society, but who come together to fight the regime. This book was a page-turner, features Atwood's tight but richly descriptive writing style, and basically answered all the important questions. My Final Rating on Goodreads: 4 Stars
I had never heard of this little novella until Anne Bogel of Modern Mrs. Darcy Fame recommended it, and I immediately put it on my TBR list. I mean, a book about a quirky bookseller with a traveling book wagon who meets a spinster who is ready to flee her regular bread-baking duties and look for adventure? Yes, please! I've been reading a lot of contemporary fiction lately, which is basically guaranteed to be full of complexities and tragedy and Tough Issues and "realistic" endings (aka, not *too* happy). Therefore, it was seriously refreshing to read a book that was meant chiefly to entertain–I didn't worry about anything catastrophic happening to the characters, and I knew everything would end well. Plus, my book self was able to nerd out on the romantic notion of becoming a traveling book seller (oh, AND this fulfilled a book off my current Backlist Blowout Challenge, to boot!). My Goodreads Rating: 4.5 Stars (FYI: You can get this one on your Kindle for just $0.99 right now.)
This memoir about Shapiro's shocking discovery through a DNA test that her father was not, in fact, her father was equal parts emotional journey and fascinating dive into the world of sperm donors and fertility practices from decades ago. While parts of the journey seemed to get a bit repetitive (although that mirrors how our mind processes difficult things), I really enjoyed this firsthand look into the complex emotions surrounding the essential question we all ask: Where do I come from, and how does that contribute to who I am? My Goodreads Rating: 4 Stars (If we're not friends on Goodreads yet, you can add me and see all my reviews as they come in here.)
I've been working my way through this one for a couple months now (the print is small and the book well over 400 pages), but it's been a fascinating look so far into aspects of White House life and what sacrifices are required from a political family. I'm not usually one to go for biographies or autobiographies written by or about high-profile people (especially people in politics), but I quite enjoy Obama's writing style, and I find her relatable and refreshingly honest; it's also given me more of an appreciation for the difficulties that come with being thrust into the spotlight unwillingly. I still have about 100 pages to go, but this will probably end up being a 4-star read.
I'd heard this book of two couples whose lives are intertwined over decades compared to Wallace Stegner's Crossing to Safety, which is one of my favorite novels of all time. Of course, with such a comparison, I went into this with inordinately high expectations, but so far (I'm only about a quarter of the way in), the book is faring well for me with its rich writing style and character-driven plot. It's been a little tricky to keep all the stories straight thus far (the novel follows all four of the people in the two couples), but I'm currently enjoying this thoroughly. There hasn't been much in the way of plot yet (as the book has just been building up the couples' back stories), but luckily, I like a lot of character development. We'll see how this one shakes out.
I read Newport's book Deep Work last year and loved it, so I was eager to get my hands on this latest one by him, especially as it's about a subject I've thought quite a bit about in recent years. Interestingly enough, while I do realize on some level that I'm considered a bit backwards by many in my approach to technology (just because I don't own a smartphone and deliberately have chosen not to for the foreseeable future), I didn't realize just how abnormal I really am (and my husband too, as he's the same way). Both of us, by the definitions in the book, are already practicing digital minimalism (especially Matt, who isn't on any social media platform), and it's been fascinating to realize the benefits of such that we've largely taken for granted just because it's always been the way we've done things. Overall, while this hasn't necessarily pushed me so far to make any further changes (just because we're already doing most of the things), it has felt pretty validating to have research back up that what we're doing is smart, ha ha. Likely Goodreads Rating: 4 Stars
On the Blog
Looking for a way to simplify roasting your turkey for Thanksgiving this year? You might consider my mother-in-law's method for slow roasting the turkey overnight, which I detailed in this post (which is one of my more popular ones, especially at this season!)
If you have small children and are looking for stocking stuffers, I've always found board books to be the perfect thing. If you're looking for some winning titles to put in your kids' stockings this year, check out this post and this post.
I've put out some fun freebies in the past couple months for email subscribers. If you're not a member of my email list yet, you can get access to my mini book on 25 Books to Add to Your Bucket List here, or my free printable on breaking up your Big Dream into do-able baby steps here. I promise I don't flood your inbox, and each month, I sent out a newsletter with exclusive content not available anywhere else.
Phew–that's a wrap! Now it's your turn to help me—which board books should I put in the kids' stockings for this year? I need some more options!