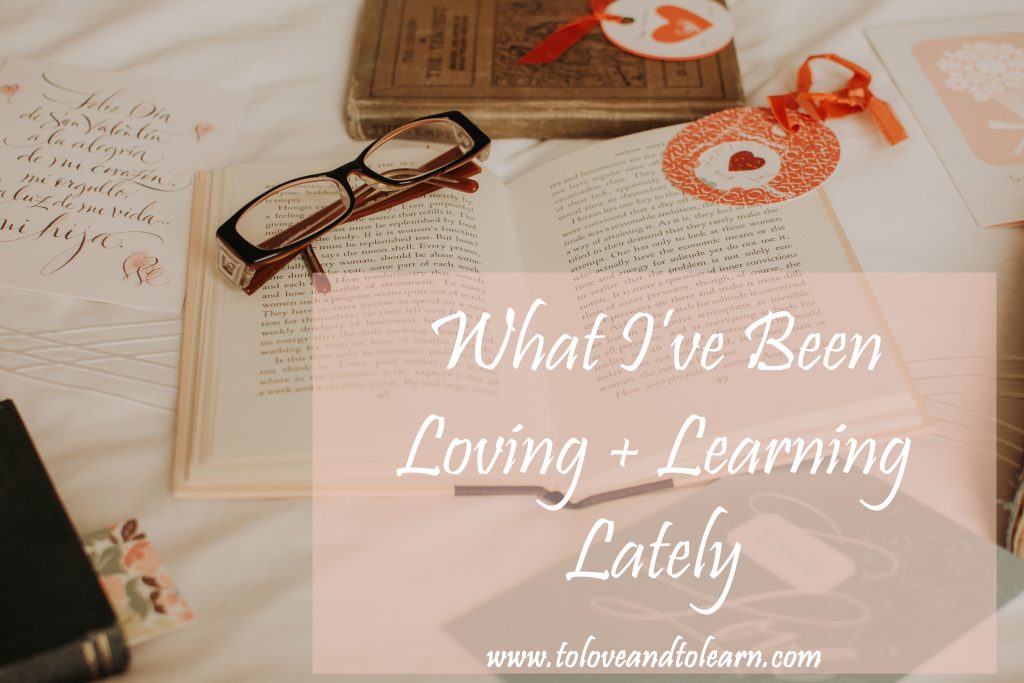 I've been wanting to start a regular series for awhile now where I can gather together everything I've been loving and learning lately, from books I'm in the middle of to shows I've been watching to recent products I've tried or the links to posts I've been enjoying lately. I doubt this roundup will happen every week, but I'm shooting for it being something I do every two weeks. My hope with this series is that I provide YOU with info and things that you might love, and that you might provide ME with good suggestions of books, shows, products, etc. that I can try, too.
Let's do this!
Note: This post contains affiliate links, which means that I get a small percentage of any sale made at no extra cost to you. Thanks for supporting To Love and To Learn!
Loving Lately
The sweet deal I got on these joggers (in two different colors–navy and olive green) that I just purchased from Old Navy. I've been desperately needing some new bottoms to wear in this awkward postpartum period where my weight is all over the place, and these totally fit the bill. I've been wanting to try the joggers trend for awhile now, and since Old Navy was having their big yearly clearance event and I had $45 worth of rewards, I got two pairs of joggers and a pair of black leggings for all of $12. Not too shabby! Oh, and if you happen to buy anything online at Old Navy today, you could get a deal just as good as I did (if not better)—the code STYLE will get you 40% off your purchase (and you can use it at Old Navy, Gap, or Banana Republic), and if you're a member of Ebates (which I LOVE—read more about it here), you can get an additional 10% cash back on your purchase. (Plus, if you go through my Ebates referral link there, you'll get an additional $10 cash back! Honestly, if you don't already use an online cash-back app or site yet every time you shop online, you're missing out on a super easy way to save money.)
The fact that I've been feeling so good that I actually went back to my hip hop aerobics class last week for the first time since having Mathias, which was three weeks earlier than planned (at 3 weeks postpartum). And I felt FANTASTIC after! Now the only problem is the fact that I really don't seem to have any clothes that fit me well at this juncture in time to work out in (see note above about why I bought the joggers in the first place). Anyone got a favorite (relatively) inexpensive place to get good exercise gear?
Clear American Sparkling Water. (I think you can get it on Amazon, but it's WAY cheaper at Walmart, so try it from there!) Ever since I went off my beloved Diet Dr. Pepper last December, I've been looking for a substitute drink that I like just as much but that's not caffeinated (and that's overall *slightly* better for me than diet soda). I stumbled across Clear American Sparkling Water by accident, actually, when I picked some up from Walmart for the sole purpose of using the bottle for a craft project. I honestly almost just dumped the drink out (thinking I didn't like sparkling water because I don't like PLAIN sparkling water), but luckily for me, I packed it into the car when we went on our St. George trip. And we've loved it ever since! Matt used to take a frozen Gatorade to work every day in the summer because his workplace doesn't have A/C, but since discovering these, he's totally switched over because they're way cheaper than Gatorade, and we like the flavors better, too!
This baby bouncer my mom got for us when she realized we had nothing to put the baby down on other than his bed or the floor. It's been so great having something I can put him in when I'm doing dishes or when we're watching t.v., and the vibrating feature often puts him right to sleep. Definitely a gift we're getting daily (if not hourly!) use out of.
After taking a looooong break from watching t.v. (for something like three months, Matt and I were seriously only watching t.v. maybe once a month or so and spending our evenings instead working on personal or house projects), we've been treating ourselves the past week or so to an episode (sometimes two) of Chuck every night before bed. (Check out the pilot episode here if you've never seen it–it's seriously one of our favorite shows, and one of the few we own on DVD). As that time of night always seems to be the witching hour for the baby and he's the most fussy, it's nice to have something we can look forward to during that time rather than just feeling stressed out by it every day. (It also helps that we've been allowing ourselves a bowl of ice cream or a Creamie every night while we watch, too!)
Learning Lately
Current Books
I just finished this one last night, and it ended up a 3.5-star read for me (for more on how I figure out my ratings, click on this post). The super unusual structure was awesome in theory (two parallel story lines, one following Anna and one following Anastasia, but with one that's going chronologically and the other going backwards in time until they both meet in the middle), but it ended up being a bit confusing in execution. However, I've been fascinated by the Anastasia Romanov mystery since I first heard about it as a kid (and I won't lie–I was a bit devastated when they found out around ten years ago or something that she didn't survive), and so this novel was a fun pick for summer, especially as it was pretty well-written and went along at a decent pace.
I've been slowly working my way through this one for a month now (and am still only 40% of the way through), and while I am definitely liking it better than the fictionalized version of Markham's life (as found in the book Circling the Sun by Paula McLain that I just finished and rated only two stars), I'm still not liking this one *quite* as much as everyone else seems to. We'll see how it goes the further I get into it, but this is looking like it will be a solid 3-star pick—great writing with an interesting setting, but as it's a memoir made up of a bunch of only-sometimes-connected stories, it's not exactly something I've been eager to pick up lately. (However, I do seem to be in the minority with my opinion, as most readers seem to love it!)
I am almost finished with this collection of the writings of James Allen on the power that our thinking has in shaping everything about our lives, and it's been eye-opening, to say the least. There is some powerful, powerful stuff in here, and I feel like it's one I'll need to revisit every few years. (And if you're remembering that I was supposed to finish this back at the beginning of June as part of my assigned reading series, you're right–but the thoughts in this one are too deep for this one to be read quickly, so I've taken my time!)
My summer reading queue was desperately in need of some traditional breezy "fluff" reads, so I finally started reading this trilogy that I've heard a lot of buzz about from a lot of different readers. This second book in the series hits the ground running, and though I just started reading it this morning, I'm nearly 100 pages in without trying too hard. Now THAT'S what a summer read should feel like! (And right now this book is just over $4 brand-new on Amazon!)
This sequel to Beartown (which I read last year and loved, and which made my Top 10 list for 2017) is one I've long been anticipating, so I'm excited to dive into it. I was making myself finish I Was Anastasia first (since I order my books based on when they're due back at the library, usually), so I'm only all of about 5 pages into this one. But it's one I'm excited about!
Links Worth Sharing
The recipe for these Triple Chocolate Zucchini Cookies, which I just tried out last week with some of the zucchini we've just started harvesting from our garden. As with all things I've tried from Mel's Kitchen Cafe, these were divine.
This link by Mind Joggle of 30 Twentieth-Century Classics Written By Women For Your Bucket List. I've read about a third of the books on the list (and loved them!), and I also found a TON of new titles on this list that I added to my Goodreads TBR list immediately.
I also appreciated the latest book roundup from Modern Mrs. Darcy titled 20 Absorbing Doorstop Novels For Your Summer Reading List. I usually don't seek out long books (because of the opportunity cost, mostly), but I definitely found some on this list that seemed too good not to add to my ever-growing stack of books to read.
This blog post all about gaslighting from Such Stuff is something I've thought about quite a bit since reading it, especially because it made me start noticing instances of gaslighting everywhere. (Also, the post taught me what gaslighting WAS, for starters). A thought-provoking piece!
On the Blog
What have you been loving and learning lately? Any books, products, or links that you've found that are worth sharing?