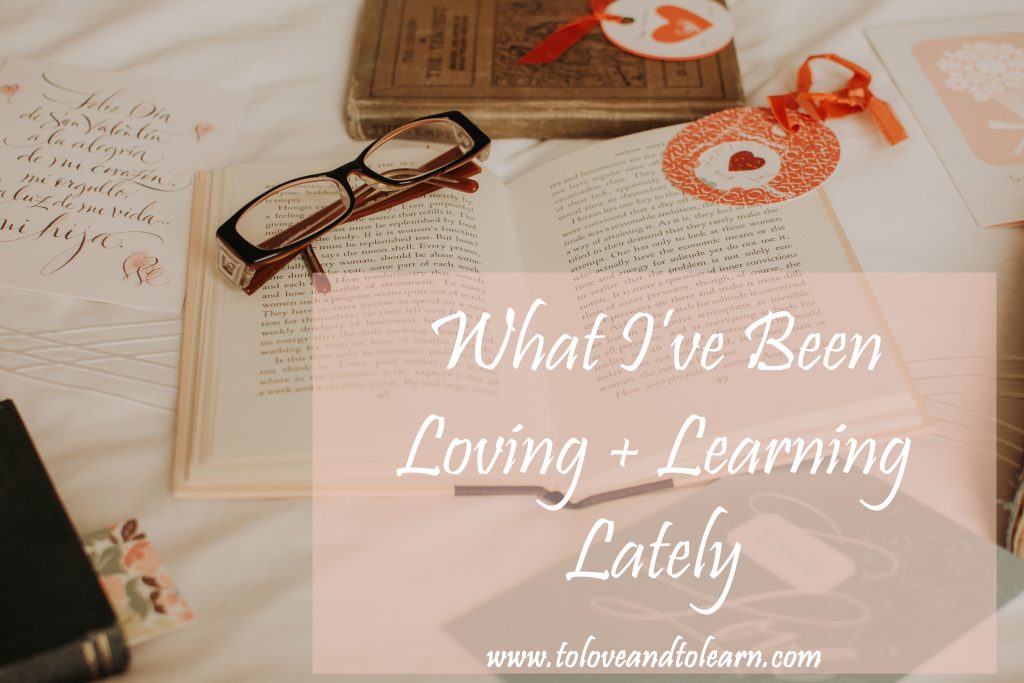 Welcome to Round 8 of this new little series I started of all the things in life I'm loving and learning lately! Here you'll find everything from the books I'm currently reading to the products I'm loving to the shows I'm watching (which, spoiler alert–won't be very many or very exciting, since I'm not a huge t.v. or movie watcher). If you want to check out past editions of the series, click here.
Note: There are affiliate links in this post, which means I get a small percentage of any sale made at no extra cost to you. Thanks for supporting To Love and To Learn!
Loving Lately
I'm purposely waiting to do all of my shopping on Black Friday (Christmas shopping as well as personal shopping), but I've been trying to plan out what I want beforehand so that I'm not spending hours on the computer (since I'll do the majority of my shopping online) over the weekend. You might remember that one of my monthly goals is to finally get a new nursing bra (you guys, I am the WORST at buying myself "non-fun" clothes, which is why I have to put it on my monthly goals list in order for it to happen!), and I think I've finally decided on one. I really liked both styles of nursing bra I got from Motherhood Maternity before, but I'm looking for a nude-colored one this time around. (Hot tip: If you're pregnant or nursing and are in the market for some new nursing bras, you can buy three and get the fourth free at Motherhood Maternity by clicking here.)

Since I'm trying to do the majority of my Christmas shopping by the end of this month, I've already started mapping out what I'm getting for whom. For the kids, we'll definitely be looking into a few Melissa & Doug options, as it's totally our favorite brand for kids' toys (we're building up quite the collection already, and this cleaning set we got for Raven last year has basically been a hit with every single kid who has come to play over at our house, leading many of the parents to purchase the set for themselves as well). For this year, we're looking into getting Raven their little vet kit, as she's been into the doctor thing for awhile now AND we're also dog-sitting for awhile, so I think this will be a big hit.
As we've been sick the past week, I'm once again super thankful we picked up a Nose Frieda when Raven was a baby (which we're now using for Mathias). Once you get over the initial ick factor, it really is an amazing tool for when your baby is congested. (And speaking of health-related products we love, I sure wish we would have bought this forehead thermometer long before we did, as we've been regularly using it on Mathias.
Since Old Navy is running their Black Friday stuff early (starting today, it's 50% off your whole order), I've already placed my order with them for some new clothes for the kids. The discount combined with the $25 in rewards I had PLUS the 8% cash back offered through Ebates means I only spent about $14 for almost $100 worth of stuff. (I ALWAYS use Ebates when I shop online–last year it got me $25 back for my Christmas purchases! And if you join now and use it to make any purchase online of $25+ over the next month and a half, you'll also get an extra $10 back if you go through my referral link.)
Learning Lately
Current Books
I'm finally getting around to reading this classic (thanks to my self-assigned reading for this school year), and my first impressions (I'm about a fourth of the way in) are that 1) it's a bit more "readable" than many classic (with an overall quicker-feeling pace, too), 2) it's a little disjointed as it keeps rapidly flipping between scenes happening at the same time, though it does add to the overall mood of the dystopia, and 3) the futuristic world portrayed is super-duper disturbing, but then again, it's supposed to be, so…it's working. I'm reserving judgment until I totally finish this one, but it has the potential to get a 4-star rating (although it will probably do so for impact, not likability). If you're curious about the criteria I use to award my ratings, check out this post on what it takes to earn five stars from me (as well as some books that made the cut).
I just finished this parenting memoir about an American mother living in Paris, and my feelings were a bit mixed on it. While some parts of it didn't really interest me and her tone at times towards American parents bugged me a bit, I did find a lot to like in many of the French parenting practices she shares. It actually ended up being great timing to read this one, as one of the things it talks about is how if your baby isn't sleeping through the night by 4 months, you'll have to try some version of "cry it out" to make him do so from that point on. As my baby had just barely passed the 4-month mark at that point, I decided to employ "Le Pause" before picking him up and feeding him in the middle of the night, and as of a couple weeks ago, he was sleeping from 10:30-7:30, and then last night, he did a full 12-hour stretch. For that alone, I'm glad I read the book when I did! It gave me the push I needed to try out a few new parenting techniques (that seem to have been effective thus far). For a list of other books that have made me a better parent, you can check out this post.
This is my book club's selection for November, and I'm just starting it (procrastinate much?). Pretty much across the board, this one has gotten at least 4 stars from pretty much everyone I follow on Goodreads, so I'm excited to dive in (as I've been intending to read this one for awhile). I'm all of about 12 pages in right now, but I can already tell this is going to be a quick read (and not just because I have to read it before my book club meeting in a week, ha ha). For a list of other quick memoirs (most of which can be read over a weekend), check out this post.
Normally I must finish a book before buying it nowadays (for more details on why, you can check out this post), but this was one I asked Matt to buy me last Christmas without having read it first, just because I was fairly confident that it would be a game changer. And it definitely, definitely has been! I'm not finished with it yet, but already I have been deploying quite a few of the strategies it's talked about with some good results, like learning to recognize when my daughter's meltdowns are genuine (and therefore need a more nurturing response) or manipulative (thus requiring a more firm response). This book has been gold so far.
I'm still not even 10% of the way into this one, but not for lack of interest–between my self-assigned reading deadline coming up this Saturday (which is why you'll notice that Deep Work and Three Times Lucky finally made it off the list) and library deadlines and the book club selection I needed to start focusing on, this one just hasn't had a chance. However, what I have read, I've really liked, and even though the first initial switch to the past was jarring, I'm sure I'll get used to it the farther into the book I go (since, as I understand it, the book follows two storylines, one in the distant past and one in the modern day, both of which revolve around the same house). One thing is for sure, that Barbara Kingsolver can sure WRITE.
Enger's Peace Like a River is one of the few more recently published books that I've awarded five stars to, so I was THRILLED to see that he'd finally w
ritten another book (it took him ten years to publish another one!). I haven't started this one yet, but this is definitely the next one waiting in the wings (especially as I only have about two weeks to start it and finish it, along with almost all the other books on here). Should be a good reading month!
Links to Love
Are you doing any shopping for Black Friday? Any deals you'd care to pass along? I'm still on the lookout for a few things!