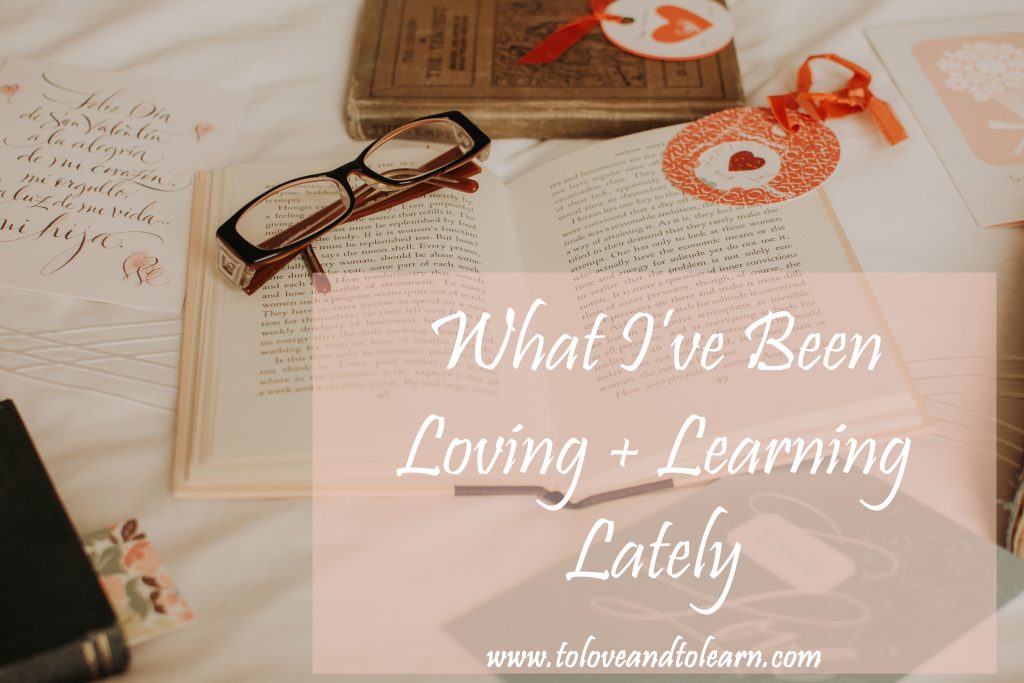 Welcome to Round 40 of this little series I started of all the things in life I'm loving and learning lately! Here you'll find everything from the books I'm currently reading to the products I'm loving to the shows I'm watching (which, spoiler alert–won't be very many or very exciting, since I'm not a huge t.v. or movie watcher). If you want to check out past editions of the series, click here.
Note: There are affiliate links in this post, which means I may get a small percentage of any sale made at no extra cost to you.
Loving Lately
In my last Snapshot of My Life Today post, I wrote that I've been thinking lately about something I heard about intentional spending that said something like, "Identify the 3 things in life that bring you the most real pleasure. Now, what would happen if you started spending 10X as much in each of those three categories?" Since reading has always been one of my greatest pleasures in life (and in my family's), I wondered what would happen if we had more intentional spending around books and reading. So this year for part of our Christmas celebration, I bought 6 picture books (so that each child would be able to unwrap 2) and wrapped each of them up. For the first week of the month, we opened up one new book a night, and then we've had the rest of the month to enjoy them together. We've really enjoyed this new tradition, and I definitely plan to continue it next year!
We just celebrated my youngest's 2nd birthday, and he (and his older brother) have been playing nonstop with the toys he got ever since. Two toys in particular that both of them have been loving (and fighting over) have been this fun little car transporter and this magnetic car loader truck.
I created a special "12 Days of Christmas Presence" email series for people on my email list to opt in to this year. This is a spiritually-focused series where I break down two lines each day from the hymn More Holiness Give Me in order to help keep this Christmas season focused around our Savior and His birth and life. The email series is totally free (as is all the exclusive content I send out to my email list), and you can get that special Christmas series sent to you by clicking HERE. I've especially enjoyed the emails I've received from some of you in reply to those! It's been such a wonderful way to connect.
Learning Lately
I had never heard of Tasha Tudor until very recently, but apparently she had quite a cult following. She passed away in 2008, but she lived a long life and was a well-known children's book illustrator and writer. Perhaps the biggest part of why she has such a fascinated readership and following is because of her somewhat eccentric lifestyle and personality — she apparently moved way off onto a large acreage in the mountains, where she shunned most modern conveniences and surrounded herself by the most gorgeous cottage garden imaginable while she continued to work on her art. This book is all about that garden, and I totally loved it. I don't know if this book would appeal to the general public, but I know for sure it would appeal to anyone who's an avid gardener or wannabe avid gardener, and even though the photographs are older, they're still beautiful. Such an enchanting book to escape into.
I wanted to like this one so much more than I did, and I felt bad giving it such a low rating on Goodreads (just 2 stars). In all honesty, I should have just put a big DNF on it and called it good. I have followed Cait Flanders for years, starting with when she still kept up on her blog about her no-spend year, and I really enjoyed her first book The Year of Less. I was hoping that this latest release from her would be just as good, but it fell really flat for me. Basically, the whole book is a "field guide to opting out" of feeling the need to take certain traditional paths, and throughout the whole book, she compares the experience of hiking a mountain to the experience of choosing to "opt out" in life of what's expected of you. While there were some good points in this, I felt like it was just kind of a slog, and I also felt like her life philosophy just didn't really resonate with me, especially because by many standards, I HAVE taken a "more traditional route." I'm sure this would be really helpful for some people, perhaps someone who is single and looking to opt out of the traditional workforce or out of some other social paradigm, but it definitely wasn't for me.
When I knew that ol' J. K. had gone and written another book for kids, I knew that we were all in. We bought this and wrapped it up as part of our week-long Christmas book celebration mentioned above. We've been doing this as a read-aloud ever since, and Raven (our 6-year-old) is ENTHRALLED — she begs me every night for "just one more chapter," and even my husband Matt has asked that we not read without him there so he can see what happens. Sure, it might not be Harry Potter, but it's still been a lot of fun so far. Basically, the main character in this loses his most beloved stuffed animal–and best friend–in the whole world, and the book follows his journey into the Land of the Lost on Christmas Eve to find him.
I bought this several months ago, but I figured I obviously would enjoy it more come winter season, so here we are! I'll probably finish this one within the week, and it's been an overall enjoyable read. While I would have liked a little more from it (perhaps some more tangible ways that we can embrace winter overall or some more varied examples of how different people manage the winter season effectively), I have gleaned some very useful tips for weathering the wintertime — which has always been a struggle for me — as well as had some important perspective shifts on the subject. I don't think winter will ever be my favorite, but this book at least helped me to have a healthier attitude towards why it is necessary.
I'm in the middle of several other books that I plan to finish by the end of the month, but I'm going to hold off posting about them until I'm done since I'll know more where I stand on them at that point. Hope you're all well, and as always, please leave any thoughts or book recommendations down below! I love hearing from you!