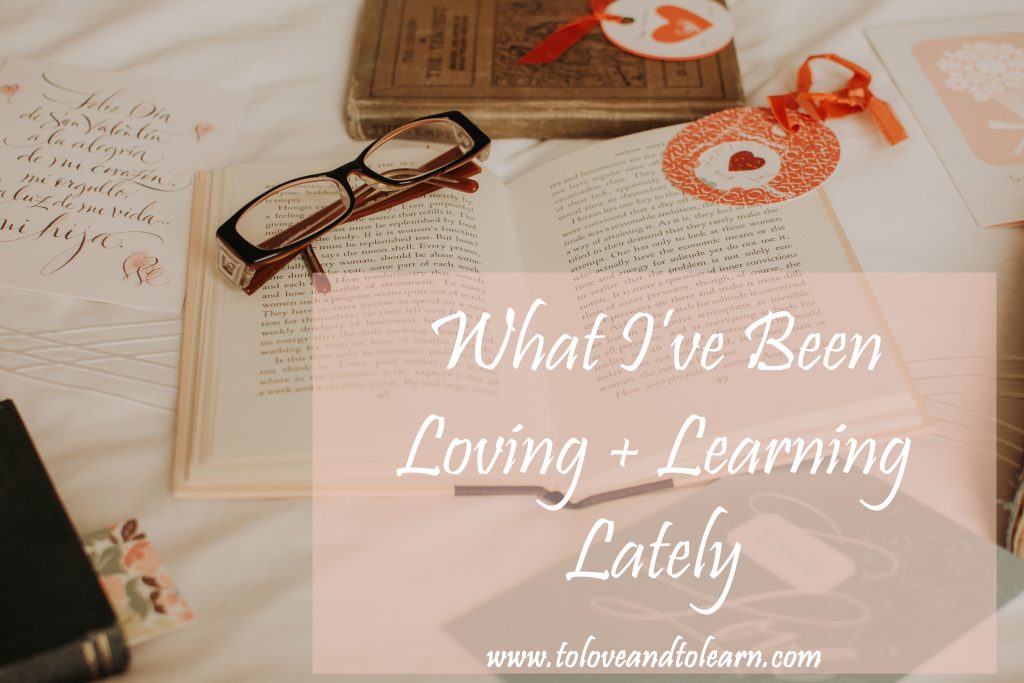 Welcome to Round 36 of this little series I started of all the things in life I'm loving and learning lately! Here you'll find everything from the books I'm currently reading to the products I'm loving to the shows I'm watching (which, spoiler alert–won't be very many or very exciting, since I'm not a huge t.v. or movie watcher). If you want to check out past editions of the series, click here.
Note: There are affiliate links in this post, which means I may get a small percentage of any sale made at no extra cost to you.
Loving Lately
I've been on the hunt for overalls for years now, but the one I tried previously (from Old Navy) was so awkward and so weird-fitting that I gave up trying . . . until I saw this style on sale at Walmart and decided to give overalls another go. AND I AM IN LOVE! I've actually gotten compliments every time I've worn them, and they are probably the most comfortable thing I own right now. I got them in two colors and have worn them more days than not lately. I love that they are almost just as cool to wear as shorts or a dress but with more coverage, I love that they camouflage my midsection (which jeans always seem to highlight because they seem to always hit me at the wrong spot), and I love that they're comfortable enough to work in (including on the flower farm), but that they're still more put together than what I was often wearing before. Consider me a fan! (Note: If you end up wanting to get your own pair and are in between sizes, go ahead and order a size down.)
Matt and I used to be super into board and card games and own a ton of them, but since we've had the kids, we've been playing less and less. The other day, we found Spot It and Spot It Junior in amongst some other random things in the garage, and so we pulled it out and decided to see if the kids could handle it. Mathias (at nearly 3 years old) can play but is a little slower to spot and/or name the matches, but Raven (our 6-year-old) caught on so quickly that you don't even have to go easy on her! Basically, Spot It is a game where you pull out two cards at a time and turn them over, and the first person to spot the matching picture between the two gets to keep the pair of them (and the one with the most pairs at the end of the game wins). Each card in the game will match one picture of any other card in the game, and you can shuffle and mix and match them up so that you are always being challenged to find the matching picture. We always used it as a "warm up" game to play with whomever was around while we waited for everyone to show up to the table on our game nights, but it works really well as a distraction for the kids while they wait for dinner to be ready, too :). (And, bonus—the Junior version is a steal right now on Amazon for just $7.99!)
Learning Lately
Collections of short stories can be very hit or miss for me, but as these are all connected and in a semi-chronological timeline, it worked (plus it helps that Dumas is hilarious and witty and able to make you really think about things without hitting you over the head with it). This memoir details some of the author's experiences as a young Iranian immigrant in the United States, and while the cultural differences and the immigration experience are what drew me to the work, it was the vivid and beautiful way she portrayed her rich family dynamic that really made this one for me. Definitely a backlist title worth picking up.
This was my first read off my 2021 Summer Reading List, and it was such a great way to kick off my summer reading season! This is a historical fiction story set during WWII (wait, just hear me out, even if you're burned out of WWII books just like the rest of us) about a British cooking competition for housewives to inspire them on how to get creative with the food rationing. While the book definitely had a bit of a Downtown Abbey, high-drama flair to it, it was a lot of fun to read, and it actually managed to pull off being uplifting and heartwarming without being fluffy or getting overly sentimental. And, bonus—it totally inspired me to be better about cooking regularly again!
I've owned and referenced this book for years as I've been working on having my own cut flower garden (and especially now that I'm a flower farmer), but I'd never read it from cover to cover until recently. Seriously, this is a must-own for ANYONE interested in cut flower gardening (or a must-own for anyone who just likes looking at beautiful pictures of flower farms and the tumbling, carefree floral arrangements that Benzakein has revolutionized the flower industry with). I love this, and I will likely refer to it multiple times a week for many years to come (or at least until I have it memorized, in which case I'll just refer to it to drool over the pictures).
I have finished a few other books, but as I'd already referenced them in previous LALL posts, I'll end this here for this time! What have you been reading and/or loving lately?