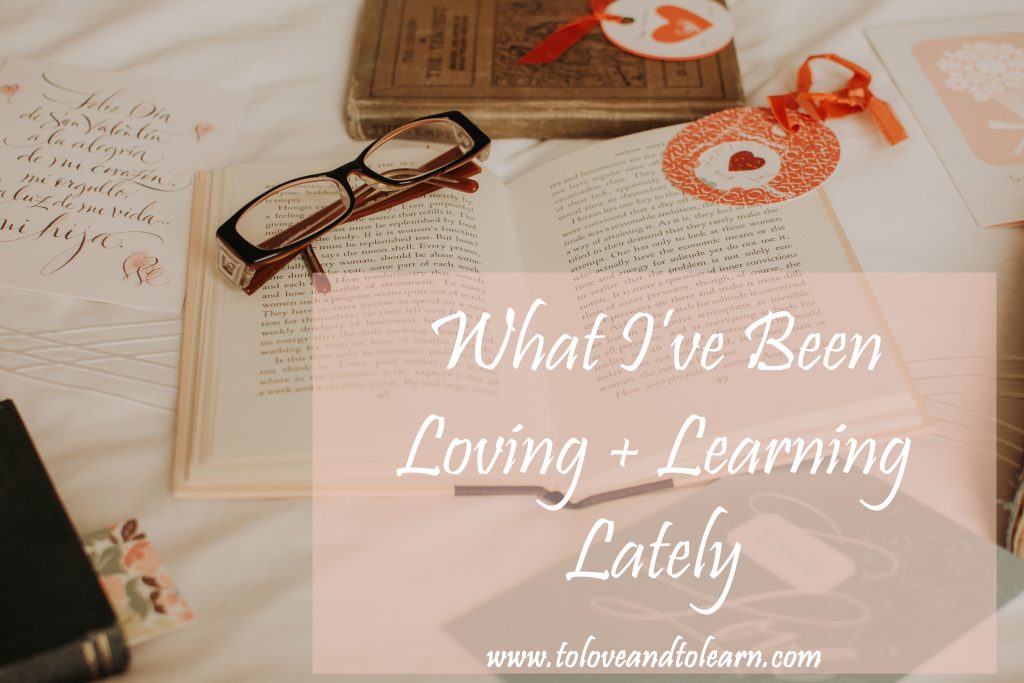 Welcome to Round 26 of this little series I started of all the things in life I'm loving and learning lately! Here you'll find everything from the books I'm currently reading to the products I'm loving to the shows I'm watching (which, spoiler alert–won't be very many or very exciting, since I'm not a huge t.v. or movie watcher). If you want to check out past editions of the series, click here.
Note: There are affiliate links in this post, which means I may get a small percentage of any sale made at no extra cost to you.
Loving Lately
With how crazy it's been to get our house ready to put on the market and then to get it packed up, Matt and I are exhausted by the time we finally get the kids into bed each evening. About half of the nights each week, we'll watch a show together, and our most recent favorite we've discovered is Taskmaster, which you can find on YouTube. It's this British game show that brings together five comedians who are all asked to do some ridiculous task or other (eat as much of this watermelon as you can in a minute, the quickest person to high-five a 55-year-old in a public place wins, etc.). It's been a long time since a show has made me laugh to the point of tears, but this one has done that almost every time I watch. If you need a bit of comic relief, check it out!
I can't remember if I've mentioned it much on here or not (although I know I have on my other blog), but this year I got really into the idea of having a cut flower garden solely for making flower arrangements. Eventually I will do a whole post on how fun this new hobby has been for me, but I wanted to share a couple things that have delighted me in this process. First, you all know I love a gorgeous book, and this book by Floret Flower Farm (which is a steal right now on Amazon at almost 50% off) is not only SO FUN to look at, it's also become basically my bible for all things having to do with having a cut flower garden and making simple flower arrangements. (I also hope to purchase their other book–A Year in Flowers–soon. Maybe I'll request it as a birthday present?)
Second, I've also been letting myself buy some fun vases for my arrangements, which are beautiful on their own (without flowers) or with. Now, I got these through IKEA's website for much cheaper than the Amazon links I'm linking to here, but as many IKEA warehouses have been shut down or have been massively backordered because of the pandemic, I figured I would link to Amazon so you have that option if you're interested: Vase 1, 2, 3. The bottle with stopper I've pictured above isn't traditionally a vase, but I've LOVED using it as one—it's perfect for holding just a single sprig of greens and a single long-stemmed flower like a snapdragon, and it's been a lovely (not to mention super easy) of sprucing up our front room.
Learning Lately
Current and Recent Reads
In spite of–or maybe because of?–the chaos from trying to get the house on the market (etc.), I somehow managed to still finish 5 books last month, largely thanks to my enthusiasm to dive right into my 2020 Summer Reading Picks. This latest one from Kristin Kimball was at the top of the stack, as I absolutely adored her first memoir The Dirty Life and couldn't wait to read the continuation of her story of going from big city girl to farmer, this time with young children afoot. And yes, I liked it just as much as I hoped I would!
Either my intense book rating system has relaxed a bit this year, or I've just been reading a lot of really fabulous books lately, but this is actually the THIRD novel I've given five stars to in 2020. (As a reference, only ONE novel got the 5-star rating for all of 2019, and that was We Were the Lucky Ones.) This one seems to be a bit hit-or-miss with people on Goodreads—either you're okay with a character-driven, slower plot line, or you aren't—but I loved it. To me, this felt like a Jane Austen novel set just at the start of WWI, and its protagonist is the fiercely independent Beatrice Nash, a "spinster" (but happily so) who lands a position teaching Latin in East Sussex, much to the dismay of the more traditional members of the highbrow society. This book combines so many elements that I love—well-developed characters, a rich sense of history and place, a hint of a love story that doesn't take over the whole plot, and a strong, spunky heroine. To me, this felt like the perfect escapist read this summer.
The idea for this one was beyond brilliant—a woman discovers as she is about to turn 19 that each year on her birthday, from then on, she is going to "jump" to a different year of her life and live it all out of order. There was so much to think about here–like the gift it would be to be able to jump back in time and spend time with loved ones who you know will have passed on later, or the tendency to see if you can change your fate–which helped save this book for me. The writing was lackluster and the main character not that likeable, but there was enough about the idea behind it and the plot itself that this overall ended up being a 3-star read.
I kind of can't believe I've never read Meissner before this, and when I finished this one, I promptly looked up all the other books that the library had of hers that were available and put holds on them. Reading a book about the Spanish Flu Pandemic of 1918 might be a bit too on the nose for what we're all experiencing now, but I found it strangely comforting to read a novel about how this has all happened before, and about how people came out the other end stronger and more resilient and more grateful for the simple things they'd often taken for granted previously. This book basically follows a family with three girls, whose lives get intertwined with two other families, one of which lives across the street, the other of which they won't really get to know until much later in the story. All in all, a really enjoyable read, despite it being set during a difficult time period.
Alice Waters, who was into the farm-to-table concept way before it ever became a huge food movement, is Fanny Singer's mother, and this is Fanny's collection of essays and memories that all revolve around life with her mom. I enjoyed this every time I picked it up—and I loved all the photography throughout!–but it wasn't one I thought much of when I wasn't reading it, if that makes sense. A three-star read.
I wanted so much to like this one as I was so excited to read it when I first heard about the concept behind it. Ross Gay is a poetry professor at Indiana University who decided to write an essay every day for a year on the small delights he found in each day. Brilliant, right? And honestly, the idea STILL captivates me. However…his writing style was just really, really not for me. I have found sometimes that when people who typically write a lot of poetry switch over to prose, the writing can often seem clunky or like it's trying too hard to BE poetic, and that was the case here. This also had a LOT of profanity in it. I ended up abandoning this about 25% of the way in, which I almost never do. I could see why some people would really love this because some of the things he talked about really made me think and/or made me want to notice the little delights in my own life more, but I just couldn't get past the writing style.
Related Post: 9 Recent Books I've Abandoned (+ If I'm Willing to Ever Give Them a Shot Again)
This was a 3- or 3.5-star read for most of it, but the ending bumped it up to 4 stars, which is always a fun surprise when it happens. Writers and Lovers is kind of a coming-of-age story of a female writer in her early thirties who just lost her mom unexpectedly AND was just dumped by her boyfriend. Her life and dreams seem to be going nowhere, and she is left floundering and wondering how to cope with her losses while continuing to forge ahead with her future plans. There is a bit of a love story in this, but it's not central to the whole plot, which I've already mentioned in this post is something that I like. (Because, as you probably well know by now, I don't really "do" romance novels.) The writing in this felt fresh and relatable, and the main character was someone I felt I could root for, despite her imperfections. An enjoyable read.
Will this book change someone's life? Maybe. Did it change my life? No. But, with that said, I still enjoyed all the gorgeous photographs of neatly organized spaces in their rainbow hues, and it did make me want to try harder to make my organizational schemes not just functional, but beautiful. A perfect book if you prefer to look at a lot of meticulously organized spaces and not read a lot of text (which, for the record, applies to me too apparently when my brain is already on overload.)
What's bringing a bit of delight/sanity to YOUR summer lately?