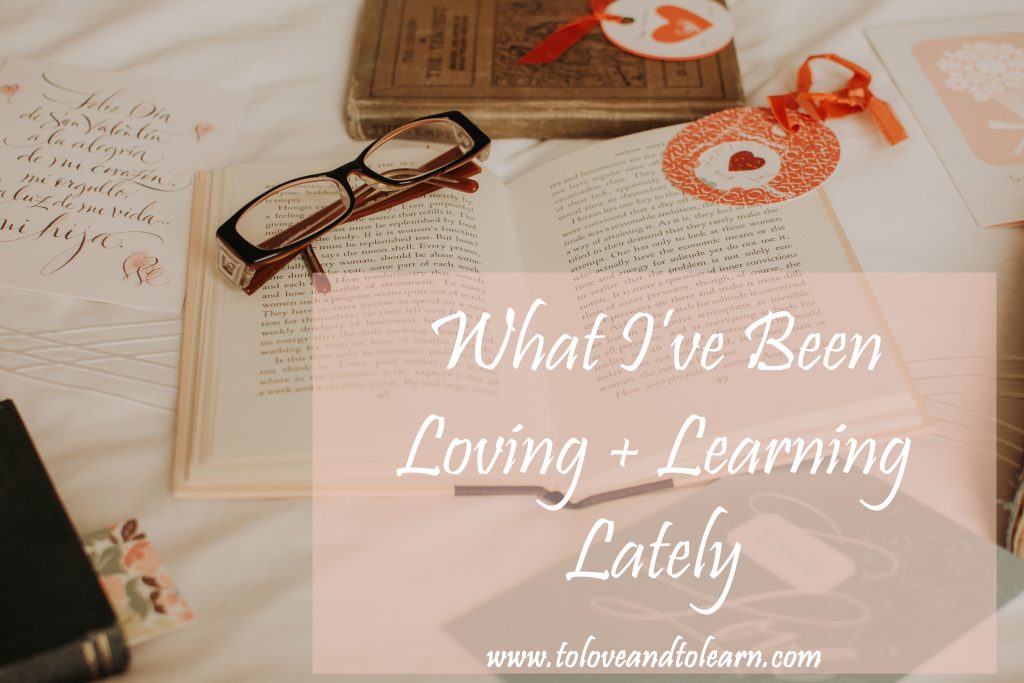 Welcome to Round 43 of this little series I started of all the things in life I'm loving and learning lately! Here you'll find everything from the books I'm currently reading to the products I'm loving to the shows I'm watching (which, spoiler alert–won't be very many or very exciting, since I'm not a huge t.v. or movie watcher). If you want to check out past editions of the series, click here.
Note: There are affiliate links in this post, which means I may get a small percentage of any sale made at no extra cost to you.
Loving Lately
With spring right on the cusp, I've been diving into all things flower farm, which started with buying (yet more) grow lights for our basement. Since our funds were limited, I decided to just try these basic shop lights, which I got for around $20 apiece. And you know what? They've worked just as well as the fancy-pants, special cool-and-warm LED lights I bought before! So if you're looking to start seeds indoors yourself this year, definitely save yourself some money and just get the shop lights. (And, if you're looking into doing a cutting garden for yourself this year, check out this post I wrote on my other blog, all about how to do the whole thing for around $200.)
Okay, I've talked about my love for Relative Race before, but YOU GUYS — my husband and I just love this show and get so excited whenever there's a new season! Currently, Season 9 just started a few weeks ago, and we've been watching new episodes as soon as they become available each Sunday night. Basically, the gist of the show is that teams submit their DNA and go on a cross-country road trip to find their biological relatives. Since most of the participants were adopted or come from situations where they didn't get a chance to know their biological families, the show is full of emotional ups and downs — we cry pretty much every week watching it. It's just so, so good. This season hasn't started nearly as dramatically as Season 8 did, but it will still always be a favorite.
I'm always looking for blogs that are uplifting and that focus on all the good there (still) is in the world around us, which is why I was so glad when I stumbled across My Giant Strawberry. Anne is a self-taught watercolor artist who blogs about the creative process, self growth, finding beauty in the everyday, and her adventures in gardening and setting mini challenges for herself. Her photography and art are amazing, and I always come away from her work feeling both inspired and comforted. Definitely worth checking out!
Learning Lately
Current and Recent Reads
A fictional novel based on the college admissions scandal that happened a few years ago, this book follows Chloe Berringer, a soon-to-be high school grad, as her entire world falls apart when her parents are put on trial for being part of an elaborate scheme to ensure that she is accepted to the college of her choice. While the book was interesting enough, I'll admit that I found the protagonist to be tedious and repetitive, and I also didn't like how the author was clearly trying to shove the message of the book down your throat instead of letting it reveal itself through the story alone. Not a bad read by any means, but definitely not as lovable as Tell Me Three Things. If you are interested in checking this one out, it's currently on sale for $1.99 on Kindle.
We've gotten back into the habit of doing regular read-alouds together as a family, and this was our pick for February. I remembered reading this story about an eccentric man who gets a penguin sent to him from the admiral of a sea expedition to the South Pole as a kid and liking it, but I didn't remember much about it at all. I'll admit that my expectations were pretty high after I'd seen it on several "best of" lists for family read-alouds, but, while the story was cute and had its moment, it definitely wouldn't have made a "best of" list for me. Perhaps it was partly because we read this right after a thrilling story with a quick-paced plot that was an absolute favorite from my childhood (Peppermints in the Parlor), but this just felt really slow to me, and everyone wasn't begging me for another chapter every night, like they usually are. All in all, not a must-read, and my husband and I positively burst out laughing at the end, just because it was so absurd.
Kenison has long been a comfort read for me, and I've been slowly working my way through all her published works the past few years. I'll admit that my feelings about this book are mixed, however; perhaps it is because this book is the most "removed" from my current life situation (as she grapples to find herself again when she becomes an empty nester), or maybe it's because the chapters about her yoga retreat seemed a little over the top to me. The rest of the book though, which deals with the loss of a close friend to cancer and of re-defining who she is and of her role in the close relationships of her life, was written much more in the Kenison style I've come to know and love. If you're interested in picking up this memoir, it's currently on sale for $1.99 on Kindle.
I own and enjoy all of Myquillyn's books, and this latest one — all about decorating your home for the seasons and entertaining year-round — is another keeper. I like that her books help me to look at my home with new eyes, and that they give practical, do-able advice on how to make it even better. In this particular book, I also like that she espouses letting nature be your guide when it comes to decorating for the seasons rather than filling your home with a bunch of trinkets from the plastic "consumer" route. Also, her books are all filled with gorgeous photos on nearly every page, which is always a big win for me.
Tell me — what are some things YOU are loving lately? (And also, if you have any blogs that are uplifting and beautiful and that I need to check out, please drop them below!)