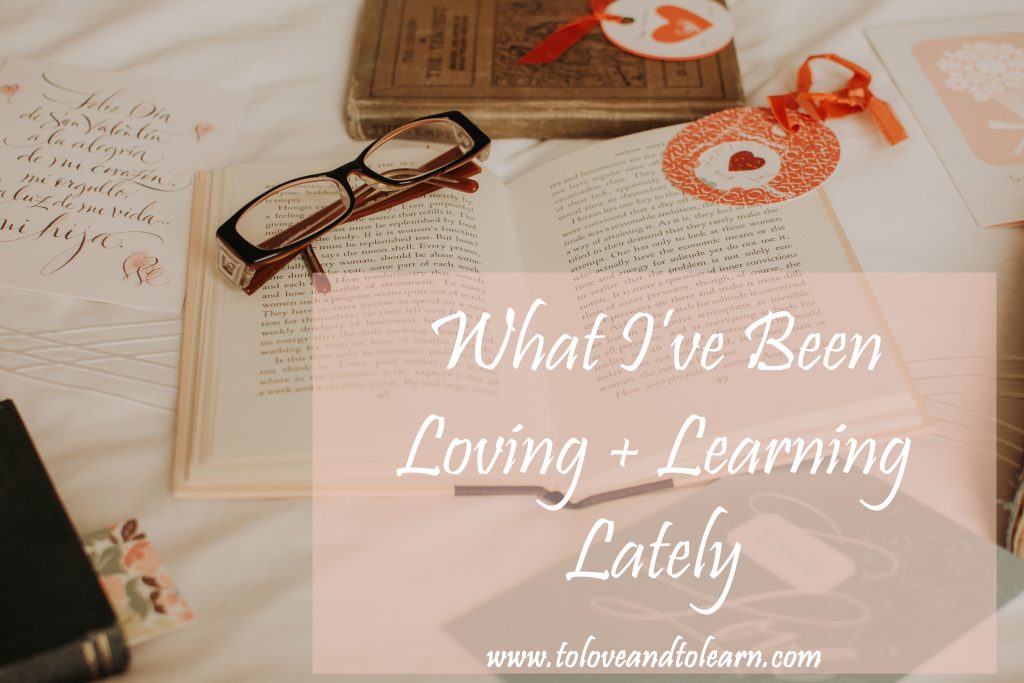 Welcome to Round 25 of this little series I started of all the things in life I'm loving and learning lately! Here you'll find everything from the books I'm currently reading to the products I'm loving to the shows I'm watching (which, spoiler alert–won't be very many or very exciting, since I'm not a huge t.v. or movie watcher). If you want to check out past editions of the series, click here.
Note: There are affiliate links in this post, which means I may get a small percentage of any sale made at no extra cost to you.
Loving Lately
Apparently I didn't get the typical girl gene of loving to buy shoes, because it's absolutely one of the clothes-related things I put off the very longest (followed only by undergarments). Basically, I'll wear the same 3 or 4 pairs of shoes until they literally fall apart, and then I'll huff and sigh and buy another pair to replace the style that just wore out. Several years ago, I found the most perfect pair of summer sandals at Kohl's, and after they broke apart two or three times (and I sewed them back together again), I had to finally concede, with the latest break, that their time had come. My usual go-to place to shop for clothes is Old Navy because I often get my stuff for nearly free thanks to my rewards points, but I haven't been impressed by a lot of their shoes in the past. However, I decided to give them one last chance and bought this pair, and so far, so good! They're much more comfortable than some other shoes I've bought from there (which was a main complaint from before), and I'm hoping they'll be sturdy enough to at least give me a couple good years of hard wear, though we have yet to see.
My husband was recently diagnosed with celiac disease (right when all this COVID-19 stuff started really hitting in mid-March), and the America's Test Kitchen How Can It Be Gluten-Free cookbook has SAVED me, mostly because it's given me hope that I can still bake things that will taste great but not use wheat flour. ATK, you can do no wrong!
I know I've mentioned my favorite facial sunscreen/daily lotion on here before, but it bears repeating again since we're heading into the warmer months. I don't like spending a ton on my beauty products, but I still don't want stuff that's ineffective or goopy, so this daily facial lotion/sunscreen from Eucerin has been perfect. It's running a lot pricier on Amazon at the moment ($12.67), but you can buy it from Walmart for just $7.58.
Learning Lately
I'm over a week and a half late in posting this, so my recent reads list is looking a bit more impressively long than it really should. I'm just starting to dive into my summer reading list with full force, but this list will mostly be comprised of all that I was able to squeeze in before that. In compiling all my most recent reads, I just realized that I have only two fiction titles (and six nonfiction), so that's a sign I either reach for "light" nonfiction/memoir picks during times such as the current pandemic, or that I need to more consciously even out my ratio of fiction to nonfiction, since I like it to be about 50/50.
Current and Recent Reads
This might have been a case of right book, right time for me (just because I needed something that would suck me in completely and that wasn't too heavy or "literary"), but I just thought this was a delight and zoomed through it in about 24 hours. Jessie's dad has recently remarried (her mom had passed away a few years previous to this), and the two of them relocated to Los Angeles to be with his new wife and her son. Jessie starts attending an ultra-elite prep school and feels like an alien landing on a new planet—everything about her is wrong, and she just wants to go back home. Then one day, she starts receiving mysterious emails from a person who calls himself Somebody Nobody who offers to show her (via email and text) the ins and outs of survival at the school. This was utterly predictable, but there was still plenty to like here. This would be a great summer read.
This book hit two things I like to geek out about–education and different cultures' parenting and societal values–so it makes sense that I would really enjoy this. In many books that compare the education system in America with the educational systems of other, more highly ranked countries, there is usually a conspicuous lack of perspective from the most important players–the students themselves. In this book, Ripley follows three American teenagers who travel to three of the more highly-ranked countries (South Korea, Finland, Poland) to be foreign exchange students. Blending both data and personal anecdotes from the students' firsthand experiences, this book provided a fascinating glimpse into what are really the factors that drive better education (hint: it's not pouring more money into the system). While I found the theories exciting and thought-provoking, I did wish that there were more suggestions on how to go about actually CHANGING anything, especially things that "regular" people (aka, me) could do in the meantime.
Romance and "chick lit" are already two genres I don't spend much time in, but occasionally I'll read a premise that sounds promising enough to give it a try. This is by the same author that wrote The Bookish Life of Nina Hill, which was on my summer reading list in 2019. Since I liked that one well enough, I decided to give this one a shot, which is about a widowed mom of two in her thirties who starts taking a gardening course as part of a work assignment…and then falls for the instructor. This is about more than just their romance, though, which is why I was willing to give it a try in the first place–it's about finding a new normal after grief, about finding community in odd places, and about being willing to give new hobbies a try. While there was a lot of promise, this one fell flat on two main counts for me: 1) Waxman's humor is pretty crass, which I never appreciate, and 2) many of the characters were flat and not well-developed, especially the main love interest. A lot of other people really enjoyed this one though, so it seems I'm in the minority.
This was a tricky one to rate—I love many of Oliver's poems (which is why I picked up this collection of some of her essays in the first place), but not all of her essays spoke equally to me. When one of the essays resonated with me, it was easily worthy of giving 5 stars…but many of the essays did not, which left much of the book feeling like a 3-star read. I compromised and gave it four, and at the very least, she made me want to study and observe more closely the miracles happening out in nature every day around me, and then write about it.
I first heard of Scott Jurek in the iconic Born to Run, and I positively devoured Jurek's first book Eat and Run. Both of those books completely inspired me during a time when I was training for longer races myself (though not an ultramarathon, like the author races), and the memory of both books made me eager to pick up this latest memoir about Jurek's quest to break the speed record for running the Appalachian Trail. I went into this very excited, but about a third of the way in, I wasn't really feeling it, and though I pushed through and finished, this one was just okay. I found it ironic that Jurek felt lost in his life because as he's aged, he's having a harder time wanting to do racing like he used to, but he didn't know what else to pursue, and to me, this book felt like I was lost as a reader as I attempted to keep up with WHY he was doing what he was doing. The whole time I read, I got the feeling that Jurek didn't really WANT to even write this book, but that he forced himself through, which is kind of how I felt reading it. I know some people (runners, mostly) really loved this one and found it very inspiring, but to me, it fell flat.
The backstory behind this one is interesting—this author got dubbed "The Worst Mom in America" because she let her 9-year-old son ride the New York subway alone to a friend's house, and this book is her defense of what's come to be known as the "free range" parenting movement (aka, the way most of us grew up). Basically, she says in this that because we're so paranoid about safety and something bad happening to our kids, we don't let them become independent and develop the very skills that will help them to survive and live well in the long run. What I appreciated about this: 1) the humor. So many parenting books take themselves way too seriously and make you feel like you're going to destroy your child if you don't do something exactly as they say, and who needs more parent guilt? Not me! 2) The fact that this book takes common parental fears (abduction, sex predators, kids getting lost, poisoned Halloween candy, etc.) and then dives into the actual statistics so that you know what to worry about (installing car seats correctly, making sure your backyard pool is covered), and what not to. I also appreciated that in her approach to free range parenting, she reiterates that it's NOT lazy parenting—-it's a way of being intentional about preparing your kid for adulthood and giving them the skills to be self-reliant and capable from a young age. Overall, a really worthwhile read, and one that has shifted how I think about certain aspects of my parenting forever.
This is my second time reading this collection of essays written by the blogger behind the once-popular food blog Orangette, which dives into the period of her life when she lost her father to cancer and met her future husband not long after (and how all of these things revolve around special recipes and dishes, which she includes the recipes for). I'll be honest, certain things about Wizenberg's writing and tone bug me, but man, she does know how to write an excellent food essay. Also, I want to make pretty much all of the recipes in this.
Sometimes I read a 4-star book and think, "Wow! Almost everyone would probably like this!" And other times, I give a book four (or five) stars and think, "Hmm…I really loved this, but I honestly don't know how other people would respond to it." That's definitely the case here. This book (which was on my Summer 2020 Reading List) is about a mom and her family renovating the fixer-upper of fixer-uppers on the coast of Washington State and of all the lessons they learned along the way. I was expecting a lighthearted, probably funny collection of cringeworthy stories and fun anecdotes a la The Magnolia Story (minus the offer to be on an HGTV series), but instead I got a pretty reflective, deep look at the meaning of house and home, and how the very structure and architecture of a place can affect how the inhabitants within relate to one another. Since we're currently looking into the possibility of moving and purchasing a different house at the moment, this might have been a case of "right book, right time," but at any rate, this book made me consider a lot of things I hadn't before, which I always appreciate.
What have YOU been reading lately? Please share below!
Blog News
I don't talk much on here about the behind-the-scenes stuff when it comes to blogging (almost never, in fact), but between rising costs for web hosting and paying for annual domains and other such things, it's definitely becoming a more expensive hobby (since almost any money I'm making from this space just goes back to paying for blog-related expenses). If you like the content I produce, there are some super easy ways to support the blog, most of which are totally free! Stats and followers don't matter a ton to me, but they do when it comes to certain affiliate programs and other blogging things, so if you could take a minute to do some of the following, I would really appreciate it!
Easy Ways to Support the Blog
Join my email list (join through HERE if you want to receive a copy of 25 Books That Are On My Bucket List)
Like the blog on Facebook
Follow me on Instagram
Follow me on Pinterest
Follow me on Bloglovin'
Anytime you make a purchase through Amazon, consider going through one of my affiliate links first (you can do that by basically clicking on any book title that's highlighted in any book-related post). You don't have to buy anything I've linked to—I get a (very) small commission on ANY purchases made after clicking through my links, so it's an easy way to pay it forward on stuff you were going to buy anyway. I always try and do this for bloggers I love (esp smaller blogs) every time I make a purchase!
Leave a blog comment! Comments are a great way for me to get to know you and what you like and are interested in, and they also provide me much-needed motivation to keep on posting!
If you like a post, share it or pin it! Each post has sharing options on the left toolbar, and it really does make a big difference!
Thank you so much for supporting me and this blog I've poured so much time and love into over the years! You all are the best <3