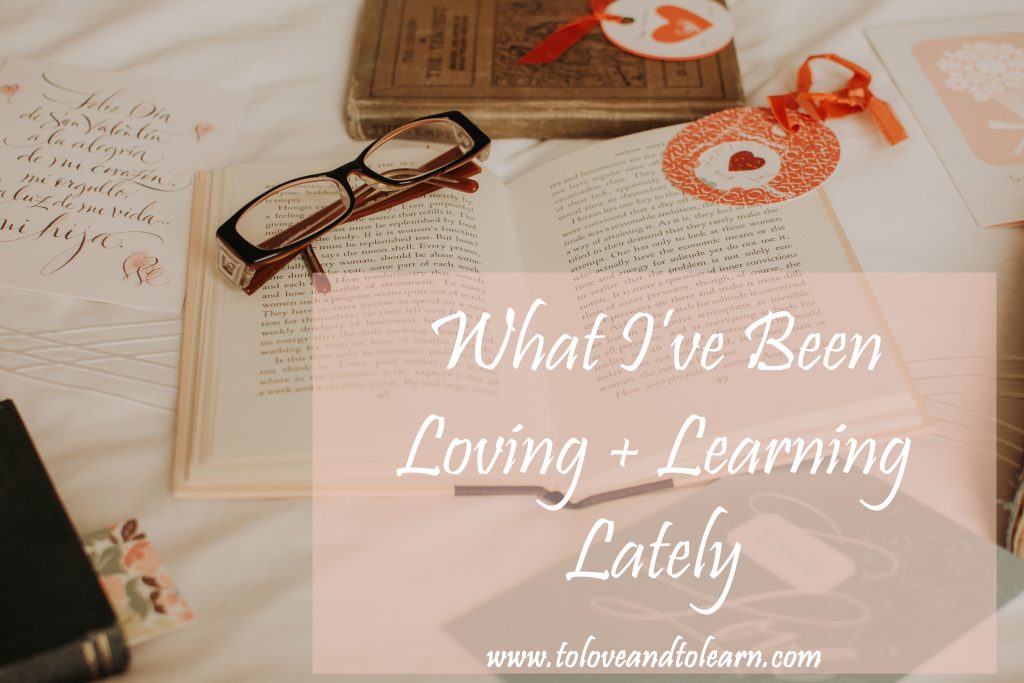 Welcome to Round 35 of this little series I started of all the things in life I'm loving and learning lately! Here you'll find everything from the books I'm currently reading to the products I'm loving to the shows I'm watching (which, spoiler alert–won't be very many or very exciting, since I'm not a huge t.v. or movie watcher). If you want to check out past editions of the series, click here.
Note: There are affiliate links in this post, which means I may get a small percentage of any sale made at no extra cost to you.
Loving Lately
You may or may not have noticed that I skipped doing this last month. Starting a business — especially a flower-farming business — is no joke! I literally have probably never had so many different roles to juggle. I've also had way less time to read (so you'll notice that even with a two-month time period for this post, my book list is still on the small side), and I had a hard time coming up with things I'm loving lately that weren't flower-farm-related (#truth). And while one day I might do a post on all my favorite things for cut flower gardening, for now I'll try to keep it a little more general interest :). So here we go!
Last month, we were able to squeeze in a family vacation to Southern Utah, which necessitated that I *finally* replace the (only) swimsuit I've had for literally over 10 years. As that swimsuit no longer fits thanks to the last 10 stubborn pounds from my last pregnancy, a new swimsuit it was! Normally I would never buy a swimsuit online, but as shopping options are extremely limited in our rural area and as I don't have many opportunities to go out and swimsuit shop by myself sans kids, online shopping it was. And you guys! I found the perfect swimsuit at Target, and I LOVE IT! The fit was perfect, the color blocking is super flattering to my less-than-solid midsection, and I also love that it's a swimsuit I can actually move around in without worrying about exposing myself :). They seem to have sold out of the exact one I got, but here's a similar one in stock. Target for the win!

(P. S. I also used my Rakuten account for this and for the Sam's Club purchase below, which meant that I got cash back for both things! Plus, every once in awhile, Rakuten will do an AWESOME sign-on bonus, and right now you can get $40 if you sign up! It's totally free, and if you spend $40 at any of the hundreds of online retailers over the next couple months, they'll cut you a check for $40 plus whatever cash back you got on your purchase. Easy peasy!)
Random story: Matt has been looking for a very specific kind of life jacket/floaty thing for our kids for several years now, but we've never been able to find it anytime we've gone into a store and looked. Well, imagine my glee when I finally found exactly what he was looking for in a Sam's Club advertisement for their big May Savings Sale—and with each being $3 cheaper than usual, to boot! We ended up getting one for each kid, even though Hyrum is too little for one as of right now. We don't go swimming that often (and will still watch our kids like hawks with these on), but having these on hand will help us feel a little more at ease whenever we do go. (Of course, looking now I can see these are, in fact, on Amazon, but they are waaaaay cheaper at Sam's Club.)
For several months, I've noticed that the Internet signal to our desktop computer (which is located two rooms away from our router) was extremely spotty. It was getting to the point where I was wasting tons of time every day waiting for the Internet to work. After weeks of Matt trying to persuade me to just try replacing the router already, I finally caved and got this one, which has been FANTASTIC from the get-go. Not only is the signal twice as strong as before (and with a much, much farther reach—even to the outskirts of our half-acre property), but I also like that it has parental and content controls built right into it. I should have bought it ages ago!!
Okay, I know I've talked about my love for Book of the Month multiple times, but YOU GUYS—this is seriously my FAVORITE gift that I've EVER gotten for myself. And right now if you go through someone's referral link (ahem, like mine), you can get your first hardback book for just $5 (and there's always free shipping). I love that I can skip as many months as I want, and I seriously love getting new hardback releases for a steal. If you're into books AT ALL, try it out!
Learning Lately
Recent and Current Reads
I always seem to forget what an emotional doozy Kristin Hannah books are until I'm in the middle of one, but WHOA—this latest release set during The Dust Bowl and Great Depression definitely was a bit of a harder read. Worth it for sure, but definitely not something to start if you're looking for a major pick-me-up. I do wish the ending had gone in a different direction, but I loved this tribute to the power of women and motherhood, especially as it was set during a time period that I've always been a bit obsessed with. In a nutshell, this is the story of a family at a crossroads who must navigate the usual ups and downs of children growing up and confronting challenging circumstances while literally trying to survive from day to day. Super interesting, and solidly written.
I want to say I heard about this one after reading about Schell's story in a magazine (maybe Real Simple?), but regardless, I've been meaning to pick this one up for YEARS. Since my library never had it (in any of the last four library districts I've been a part of), I finally went through Biblio (my favorite online source for used books) and found a nearly-new hardback copy for around $6-7. Anyway, Schell had just moved to a new neighborhood and was looking for a way to connect with her neighbors, so she decided to put a picnic table–painted turquoise–out in her front yard and regularly spend time out there working, eating, or playing with her kids, just to see if it would be a way to help more people walking or driving by to want to chat for a minute. Long story short, it ended up not only changing their life and neighborhood for the better, but it actually started a movement across the country of other people putting out turquoise tables in their front yard to provide a place to connect more. I'm loving the book so far, and it doesn't hurt that it's got lots of gorgeous pictures and a pleasing layout, too!
Ever since I finally caved and got a smartphone in the last year, I've discovered that I definitely have a weakness for Kindle books and daily deals (no surprise there). As I'm always on the lookout for titles to inspire me to continue being frugal and saving towards our big-picture financial goals, this seemed like the perfect fit (especially as I'm drawn towards many aspects of the Amish culture). While on the one hand this book has been doing its job and keeping frugality more top of mind for me, the actual execution has just been so-so. The author has a clunky sense of humor in her writing, which can kind of come off as mocking sometimes (though I'm sure that's not what she intended). Anyway, this is definitely not a must-read in the frugality niche, though it's been an okay way to pass the time.
This is my current nightstand read, and I can already see (about halfway in) why people often compare this to You've Got Mail. I needed something cute and fluffy and light-hearted, and this story of two teens from warring hamburger diners is definitely fitting the bill. In fact, I'm already liking this so much that I'm adding her latest book — You Have a Match — to my Summer Reading List (which I hope to publish by the end of the month).
What have you been reading lately? Any books worth recommending for my Summer Reading List?