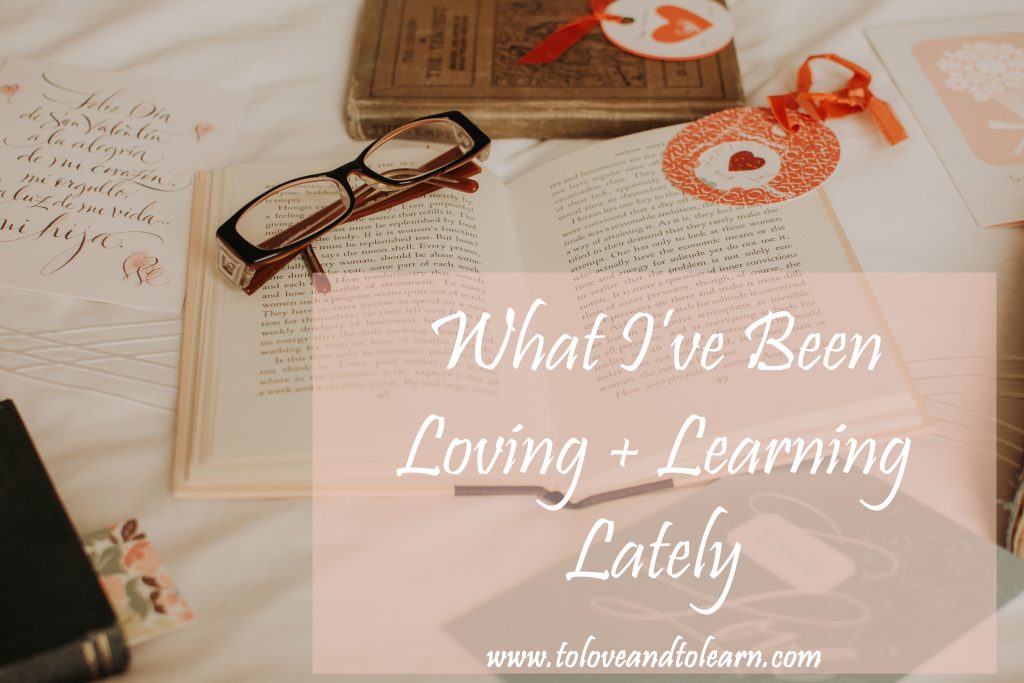 Welcome to Round 24 of this little series I started of all the things in life I'm loving and learning lately! Here you'll find everything from the books I'm currently reading to the products I'm loving to the shows I'm watching (which, spoiler alert–won't be very many or very exciting, since I'm not a huge t.v. or movie watcher). If you want to check out past editions of the series, click here.
Note: There are affiliate links in this post, which means I may get a small percentage of any sale made at no extra cost to you.
Loving Lately
Learning Lately
There's no doubt my reading life has struggled since the pandemic started and life as we knew it turned upside down. I know many of you are in the same boat–how even though in some ways, there is more time than ever, it's just hard during the current circumstances to sit down and focus for long periods of time. My distracted state has meant that I keep starting books but seem to lose steam on finishing them, which has meant that over the last month, I've been in the middle of anywhere from 8 to 12 books at the same time.
In addition to the titles mentioned below, I did finish three read-alouds with my 5-year-old over the past month, but I'll plan to include those in my series of what the kids have been loving lately, as well as a future round-up post on good read-alouds to start out with.
Current and Recent Reads
One thing I know about myself is that when I start seeing a book everywhere (and haven't read it myself yet), I usually eventually give in to see what all the hype is about. This was my first intro to Taylor Jenkins Reid, and there was enough I liked about this one that I'm willing to give at least another of hers a shot (and have already picked up Maybe in Another Life from the library, as a matter of fact). This story of the breakup of a fictional band in the 70's was a bit gritty and rock 'n roll and very much a page-turner. I liked that it was told in interview style, I thought the story was clever and the ending satisfying, and I could definitely see why people said they wished that this HAD been a real band so they could listen to the music, which is richly detailed throughout. What I didn't love: there was a LOT of language, sex, and drugs, as would be expected from a rock 'n roll band of this era. My Goodreads Rating: 3.5 Stars
This book was the perfect thing to read during quarantine–it provided ample strategies for how to think more positively without being too "self-helpish," all while having a solid and inspiring (true) story to follow. Also–bonus–this got me to start running again after I'd had to take more than a year off from it. Deena Kastor was an Olympic medalist and won numerous championships, and this basically tells of her growth as a runner from when she relied solely on her natural talent to when she realized that running–like anything else–is something that one can develop and advance with practice, effort, and a positive mindset. My Goodreads Rating: 4 stars
The backstory on this is pretty funny—Christopher Ingraham is a data reporter working for The Washington Post, and he did an article a few years ago that summarized a data set from quite awhile back that tried to quantify the prettiest and ugliest places to live in America based on natural geographic features. He ends up poking fun at the one that was in dead last place–Red Lake Falls, Minnesota–and called it "the worst place to live in America." What he didn't expect was the indignation and backlash from people in the community, who ended up convincing him to fly out for a visit to see this so-called "ugliest place" in person. What he REALLY didn't expect is that he fell in love with the town and ended up moving his young family out there to settle down permanently. This is the story of how (and why) it all went down the way it did, complete with lots of random data sets thrown in (since that is, after all, his specialty). This wasn't a must-read, and I didn't love the amount of profanity or politics in it, but it was kind of a fun one to pass the time. My Goodreads Rating: 3 stars
This took me a long time to get through, and at times the wildly all-over-the-place timeline and plot based almost solely on character development started to get to me, just because I didn't often have the focus or drive required to pick this one up for long stretches. However, the emotional impact of this book is POWERFUL—it focuses on all five members of the same Muslim-American family, and how the choices of one brother/son affect them all, and how the other family members wonder how their choices ultimately affected his. This book deeply dives into issues of religion, faith, family ties, and loyalty, and the writing is really quite stunning. I might have given this five stars had I read it during a different season of life, but for now, it definitely still got a solid four, even if I did have to push myself through during some parts.
This book has been on my reading bucket list forever (which you can get a copy of by signing up for my email list here), and I finally picked it up this week. I quickly learned that I'd better read it with a highlighter in hand, because this book on the insights of one wife and mother on the pursuit of the simple but good life is a classic, and I can guarantee some of those quotes will be making it to the blog/email newsletter soon. I've been fascinated by the minimalism/simple living movement for several years, and this book hit all the right notes for me. I also like how the author is a busy writer, wife, and mother of five, and how she specifically writes to the quandary of dividing your time between your own pursuits and taking care of your family, which is something I think about all the time.
Blog News
Hope you're hanging in there and doing well!