I grew up with three older sisters who all, to some degree, liked to cook (or at least had certain "specialties" that they were known for). While I remember loving my sister Hannah's homemade donuts and personal pizzas and my older sister Jill's banana drop cookies (which I am definitely posting the recipe for at some point), it was my oldest sister Sarah that I remember cooking for me the most.
Besides being the best homemade popcorn maker in the house, she also frequently made homemade macaroni and cheese for us, which I grew up loving even more than the boxed stuff (though I ate my fair share of Kraft mac and cheese, too!).
When I figured out how ridiculously easy that homemade mac and cheese was, it solidified that it would be something I would make for life, especially once I had kids. (Funny truth: because my daughter Raven has grown up eating this macaroni and cheese recipe that my sister taught me, she literally won't touch the boxed stuff—she doesn't recognize it as macaroni and cheese, a fact I'm perfectly okay with.)
So, if you're looking for super kid-friendly homemade macaroni and cheese recipes that cut out all the processed stuff but that still don't take up much of your time, look no further—the first recipe I share takes the time equivalent of the boxed stuff (so, around 15 minutes), and the others, though they do require some oven time, don't have extensive prep. I consider each version to be a step up from the previous one, with the first being the simplest (the one I learned from my sister) and the final one being the most "fancy."
And all are delicious.
Obviously.
***Note: The second and third recipes both come from The Food Nanny Rescues Dinner, one of my favorite cookbooks. (Actually, I've set the goal to cook my way through the whole cookbook as part of my 101 in 1001 goals list.) I love this particular book because the recipes are all family-friendly, relatively easy, use ingredients I'm familiar with and usually have on hand, and are, of course, delicious. The links to it are affiliate links through Amazon, which help support To Love and To Learn at no extra cost to you.
1. Super-Quick Mac & Cheese (Time Equivalent to the Boxed Stuff)
Bring a pot of salted water to boil. Once boiling, pour in a cup of dry elbow macaroni. Cook until soft (usually around 7-9 minutes). If desired, pour in about a quarter to third cup of peas while macaroni still has about 2 minutes left to boil. Drain well. Add about a cup to a cup and a half of grated cheese (even better if you mix cheeses like Cheddar and Parmesan, and if your Cheddar is a bit on the sharper side). Salt and pepper to taste.
Serves: 2-3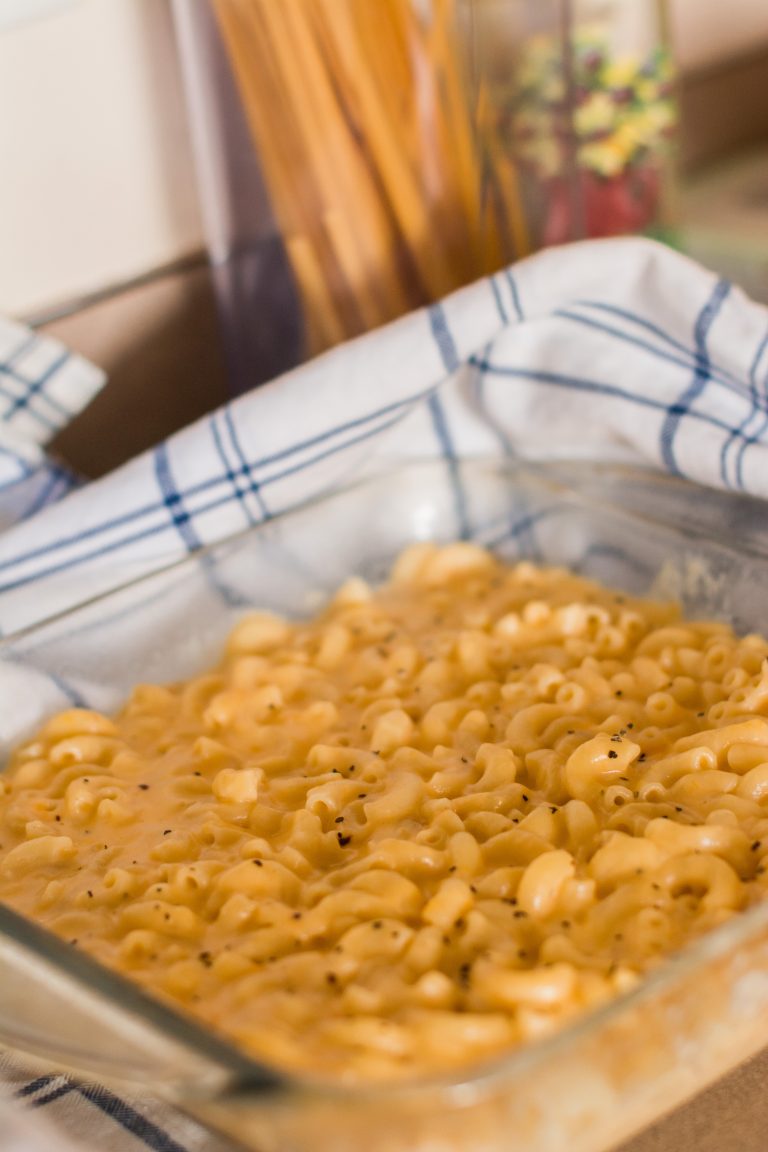 1-1/2 cups uncooked macaroni
3 tablespoons butter
2 tablespoons all purpose flour
1/2 teaspoon salt
1/8 teaspoon ground black pepper
2 cups milk
2 cups shredded Cheddar or Colby cheese
Preheat the oven to 350 degrees and lightly grease a square baking dish. Cook the macaroni in salted water according to package directions and drain and set aside.
Meanwhile, melt the butter in a medium pot over medium heat. Blend in the flour, salt, and pepper. Slowly add the milk; cook and stir until the mixture is thick and bubbly. Decrease heat to low and add the cheese, stirring until the cheese is all melted.
Combine cheese sauce with macaroni and put in the square baking dish. Bake 35 to 40 minutes or until heated through.
Note: I think peas and macaroni and cheese were born to go together, so I always add some to the pasta for the last 2 minutes or so boiling. I also have eaten this without baking it in the oven, and I think it tastes great either way! The sauce is just a little more runny/creamy if it's not given time in the oven to firm up.
2 cups uncooked macaroni
1/4 cup (1/2 stick) butter
1/4 cup all-purpose flour
2 cups milk
1 teaspoon salt
1/8 to 1/2 teaspoon cayenne (depending on how much heat you want)
1-1/2 teaspoons Worcestershire sauce
1/8 to 1/4 teaspoon Tabasco sauce (again, depending on the heat)
2 cups shredded Cheddar cheese (sharp is best)
1/4 cup grated Parmesan cheese
Crumb Topping
2-3 slices white or wheat bread
2 tablespoons butter, melted
1/4 cup grated Parmesan cheese
Preheat oven to 350 degrees and spray a square baking dish with nonstick cooking spray. Cook the pasta in salted water according to package directions and drain, setting aside.
Meanwhile, melt butter over medium heat in a medium saucepan and add the flour. Stir with a fork or whisk until the mixture is bubbly, about a minute. Add the milk slowly, cooking and stirring until the mixture thickens. Add the salt, cayenne, Worcestershire, and Tabasco. Stir for 1 minute. Turn heat to low and add the 2 cups of Cheddar and the 1/4 cup of Parmesan. Mix and stir constantly until cheese is melted. Combine cheese sauce with pasta and place in the prepared dish.
To make the crumb topping, grind the bread in a food processor and then mix in the melted butter and Parmesan cheese. Sprinkle over the pasta mixture. Bake for 20-30 minutes, until hot and bubbly and the topping is browned.
Note: Once again, I almost always add peas, which I put in for the last couple minutes while the pasta is boiling. This is also really good with steamed broccoli.
And it doesn't get much easier than that, folks!